2017 My Doll Year in Review
Another year down yall. As I look back over my collecting habits for the year, I see some consistencies and a few surprising new directions. So here is my hit list for 2017 in no particular order. And note...I am skipping dolls that are still on pre-order and not arriving until next year.
The Hits
Gigi Hadid Barbie
After teasing us with her on the
Barbie Style Instagram
, Mattel delivered a very nice doll. The sculpt is gorgeous and she comes with a cute Tommy mini fashion on an articulated (but not made to move) body. I heard the sweatshirt stains but I have not checked mine yet. I just adore the little shorts.
Barbie Fashionistas...Diversity continues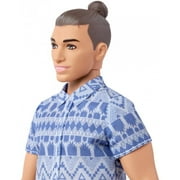 Holy Man Bun! Mattel continued to deliver new sculpts and even added additional body shapes for Ken (Broad, Slim, and Original). We also saw an articulated curvy doll and images for an Curvy Made to Move coming in 2018. Once again, I found myself purchasing a playline doll. Blue Beauty 69 is ADORABLE. Then I had to hunt down the elusive purple top made to move doll in order to upgrade her body for posing. I also scooped up a bunch of fashion packs. You can see them on my
flickr album
. The Hello Kitty packs are beyond adorable. My one complaint is that Mattel needs to pick a size for the clothes and stick with it. Right they are trying to have it (three ways) and it is really hit or miss as to what body type will fit the clothes.
NuFace Twins
IT delivered so many killer versions of the Blair Twins this year. First, Smoke & Mirrors along with Trouble Eden to finish up the Reckless line. Both are stunning. Then came the amazing Poetic Beauty gift set as a part of the Heirloom line. The fashions and dolls were wonderful. I opted to sell my dolls but kept the wonderful clothes. Then we got one more beauty at convention in the form of a vaguely Pocahontas-inspired "Changing Winds" Eden. With the darker skin tone and long brown hair, this was one of my favorite girls of the year by far.
Jessy Ayala
IT's youngest designer has proven to be wildly popular with fans. The last two NuFace collections were beyond cool. Looking forward to more of his work.
East 59th Ladies
Designer Chris Stoeckel gave us a wonderful gift of retro glamour and play with the East 59th line. I really loved the sculpts and the mix and match outfits complete with bonus accessories. I look forward to adding more of these to my collection. The boxes were beautiful too.
Farewell Jem
Technically we aren't getting the final dolls until 2018, but IT definitely ended this line giving the fans a lot of love. The Sophisticated Lady giftset might just be my favorite version of Jem and Jerrica. It is sad to know there won't be any more official gals but my doll fund will definitely be less strapped.
Pidgin Doll
This falls in the "Dolls that haunted me in 2017" category. As much as I have sworn off BJD/resin collecting, I keep looking at the offerings from
Pidgin Doll
with great longing. So much fun and creativity and doing something totally original in the doll world.
Exquise Adele
I did not get her...but MAN is she stunning. Congrats to everyone that has her.
The Industry
Between the first line and the Wonderland Style Lab, I added quite a few of these to my collection. I really like the new body on the girls and how they fit the old Dynamite Girls ( and many Babs) fashions. The boys have been killer too. The first Tate Tanaka and the recent Daley Daniels are both wonderful. I just recently customized my Style Savior Liu Liu with tattoos and some smokey eye.
Misses for 2017
Tonner Wonder Woman Movie Doll
First of all where is she? I understand that the world of licensing and approvals is hella-complicated but it would be nice to get a doll in the same year as the film release for a change. Based on the prototype images, the sculpt is not particularly successful. However, I will wait to see it in production. It seems to have sold out via pre-orders and we have had a few teasers for additional fashions but nothing firm as of yet. While the Wonder Woman fan in me itches to get her, the price and the likeness are keeping her firmly in the 'no thanks' camp.
Jason Wu Anniversary Collection
The dolls ended up being beautiful, but the price points combined with the tiny editions and the crazy e-commerce death race gauntlet to get your hands on these was BEYOND insulting to the doll collectors. If this was a line that was supposed to be "for the fans" then consider this an utter failure. This was a scalping dream come true and an exercise in disappointment instead.
Hello Kitty Barbie
Um....what happened to my beloved Steffie Mold? I am so tired of he 'karl sculpt' yall and I barely collect Babs. While this outfit is cute, the price point is RIDICULOUS for this doll. $100 for a non-articulated doll? Utter madness.